Presents
GOLDLAKE HEART BEAT
'Becky'
Sire: Ch Oceanviews Got ToLuve Me
Dam: Goldlake Suicide Blonde
Whelped: 12th January 2011
Hips 1:1 = 2

Elbows 0:0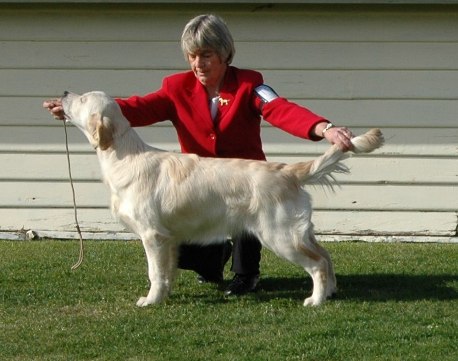 Becky at 8 1/2 months Winning Minor in Show at the Tasmanian Golden Retriever Club Championship Show under Ms. Natasha Ryan (WA)
Natasha's Critique:
J. Grierson's Goldlake Heart Beat 7 month old pale gold puppy bitch. Beautiful soft expression with good dark eyes. Excellent forequarters, with good topline and tailset. Excellent body proportions and development for age. Hindquarters good, a bit loose on the move at the moment, but has good reach & drive. A very promising youngster.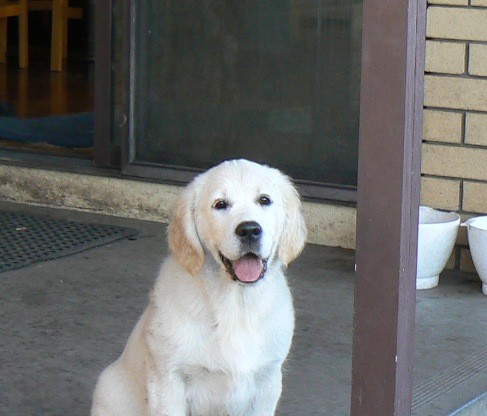 Becky 3 1/2 Months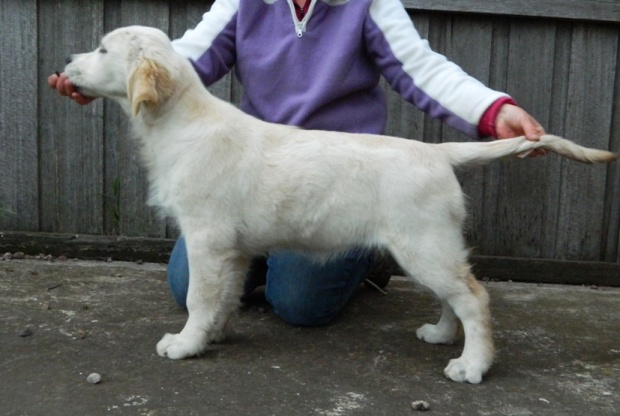 Becky 3 1/2 Months
Becky has the most wonderful easygoing temperament. She is a joy to have around. She has already won Baby Puppy Group at an Allbreeds show and Baby Puppy In Show at the Gundog Club Show. Looking forward to great things from this little girl.
Sired by the lovely Angus (Ch Oceanviews Got to Luv Me), she has taken after her father in many ways. Thank you Jenny Bliss for letting me use him.
Becky wins Opposit Australian Bred in Show at the Tasmanian Golden Retriever Club Champ Show – Judge Wendy Andrews UK (Catcombe Kennels)
Pedigree

Parents

GrandParents

GreatGrandParents

SIRE

Ch. Oceanviews Got To Luv Me

Kellyvix Gold Pirate

O.C.Euraidd Knight Raider
Eurraidd Water Lilly CDX
Ch. Swifttreve Celebration
N.Z.Ch. Ch. Goldtreve Camrose Kraka (Imp.NZL)
Ch. Willowlawn Brocade (Imp UK)

DAM

Goldlake Suicide Blonde

Kaparla Its Raining Men CCD

Ch.Golden Rose-Bay's Drummerboy (Imp Belg)

Chaleur Glamour Puss
Kaparla Oh Behave
Ch. Kaparla Its Supernatural
Buffalo Stenburys Frolic