Presents
Ch Goldlake Summer Breeze
Sire: Grand Ch. Tulzean Autumn Tango
Dam: Ch. Kaparla Such Is Life
Whelped: 16/4/2006
Hips 4:5=9 Elbows 0:0, Clear Heart Certificate, Current Clear Eye Cert., DNA Profiled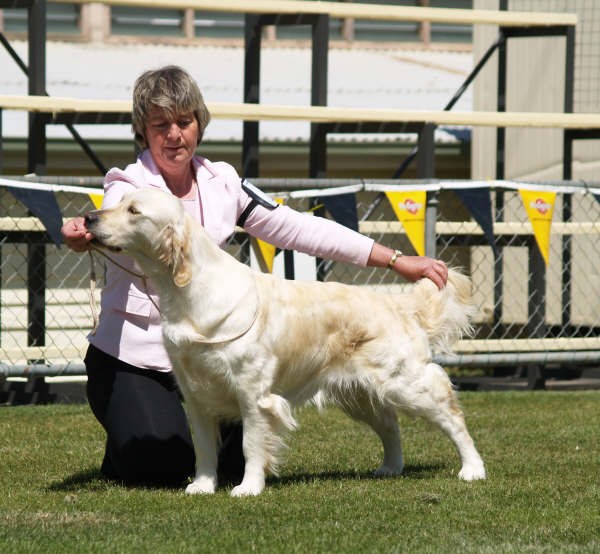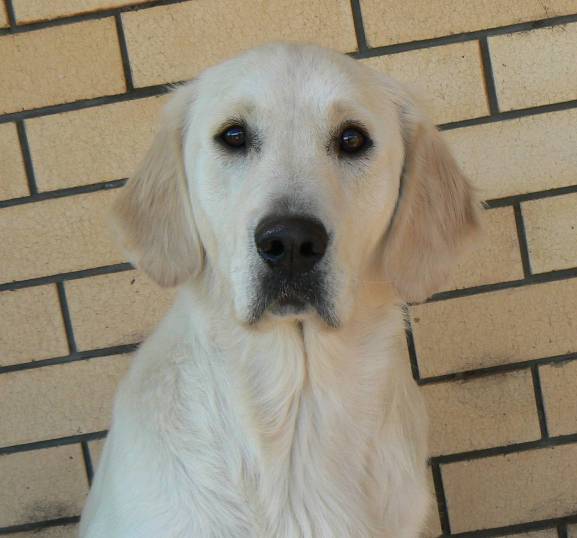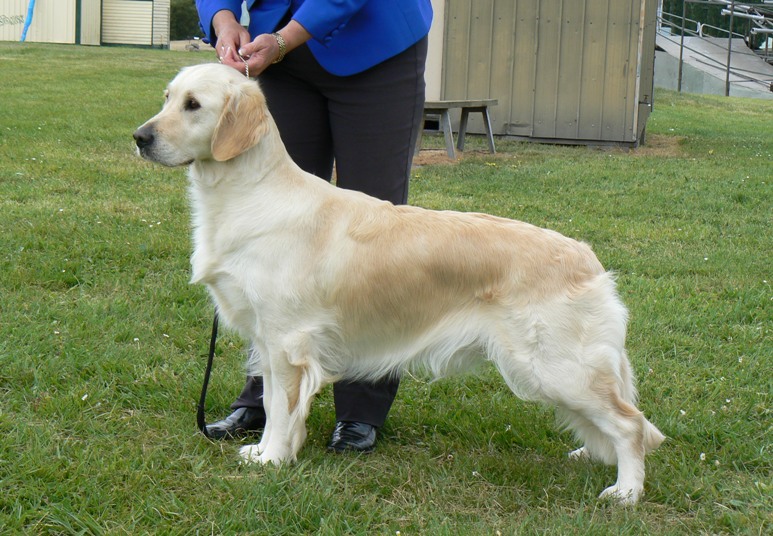 Breeze is my first home bred Champion. She has had an amazing show career to date.
She was awarded Minor Puppy in Show at the 6th Golden Retriever National 2006, Tasmania, under Mr P. & Mrs. B. Mills (U.K.)
Peter Mills' Critique: Lovely pale bitch with pleasing feminine head and a cheeky twinkle in her eye! Good reach of neck, level topline, straight front with beautiful feet, full pale gold coat. Good angulation front and rear, lovely balanced outline, nothing overdone. Moved staight and true with drive & style.
She was placed 1st in the Junor Bitch Class, Tasmanian Golden Retriever Club Champ Show 2007 under Henric Fryckstrand (Dewmist Kennels Swed).
Henric Fryckstrand's Critique: Beautiful young bitch who is shown to advantage with a waggy tail. Well chisselled head, lovely expression, excellent neck. Food front angulation. Excellent bone and feet. Good ribs but needs more depth of body. Strong quarters with good second thigh. Moves with rear extension and drive.
Breeze was awarded the Bitch Challenge, Runner up Best of Breed & Intermediate In Show at Tas. Golden Retriever Club Show 2008 under Beryl Liggins (Nunsbrook Kennels U.K.). Breeze's daughter, Goldlake Sweet Dreams, was awarded Opposite Minor Puppy In Show.
Beryl Liggins' Critique: Quality lady of super type with feminine head and soft expression, loved her overall balance and movement, excels in neck and shoulder angulation, straight front with good bone and feet, level topline, deep well ribbed body, well developed quarters which she used to give sound and stylish movement.
Breeze is a delight to own. she is so eager to please and always has a smile on her face.
Pedigree

Parents

GrandParents

GreatGrandParents

SIRE

Grand Ch. Tulzean Autumn Tango

Eng.Sh.Ch. Ch. Stanroph Shogun (U.K.)

Eng.Sh. Ch. Amirene Pacifique (U.K.)
Stanroph Shere Fantasy (U.K.)
Strathraer Arctic Skye
Fn..Ch.Swd.Ch.Fnl.F.T. Ch. Trewater Macoy (ImpUK-FNL)(FIN)
Haamorin Mesimarja (ImpFin)

DAM

Ch Kaparla Such Is Life

N.Z. CH. CH. Kaparla Loch Invar (ImpN.Z.)
Ch. Sandusky Klammer C.D.X. (Imp Swe)
Ch.Dalius Band Of Gold (Imp U.K.)
Ch. Kaparla Just an Illusion
Kaparla Standing Ovation
Ch.N.Z.Ch. Kaparla Aran Moonmyth (IID)