PRESENTS
Aust. Ch. GOLDLAKE ONCE UPON A TIME
'POPPY'
Sire: AUST CH ACACIAN SPECIAL EVENT
Dam: AUST CH GOLDLAKE SUMMER BREEZE
Whelped: 23rd January 2010

Poppy winning the Bitch Challenge and RunnerUp to Best in Show at the Tasmanian Golden Retriever Club Show August 2012 Judge Mrs. Wendy Andrews (UK) Catcombe.
Wendy's Critique:
What a lovely bitch – she never stopped showing herself off for a second and I was captivated. Super head, good reach of neck, into level topline, good shoulder angulation, straight front, superb bend of stifle, short coupled. She moved with grace and power, driving around the ring effortlessly, and with panache.
Bitch C.C. and Reserve Best in Show.



Poppy had a successfull weekend in Adelaide 6th August 2011 winning
BCC & RU Best Of Breed Judge: Mr. J Becerra ( Puerto Rico)


16 Months


POPPY WINNING MINOR PUPPY IN SHOW AT THE TASMANIAN GOLDEN RETRIEVER CLUB SHOW UNDER BREED SPECIALIST PETER ANDREWS 6 1/2 MONTHS.


4 1/2 MONTHS

POPPY 3 Months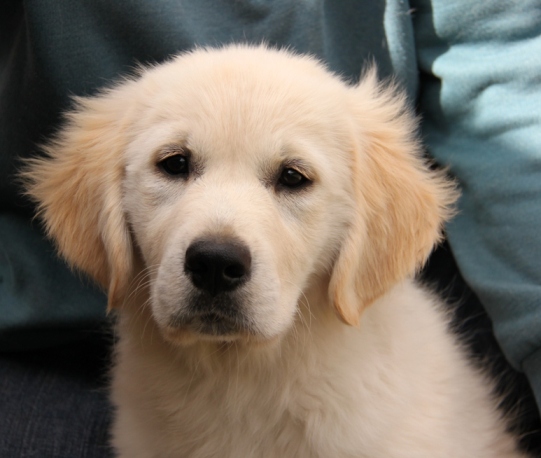 Poppy is the new addition at Goldlake. She is a stunning puppy and we are looking forward to a great future with her.
She is by Aust. Ch. Acacian Special Event and we would like to thank Jill and Wayne at Beaucroft Kennels for allowing us to use Diesel.
Poppy won Minor Puppy in Show at the Tasmanian Golden Retriever Club Champ Show under Breed Specialist Mr. P.Andrews (SA)
Critque:
Very well balanced all round, very good head for one so young; bone, feet and muscle ok, movement good, very promising future.
She won her first Bitch Challenge, in good company, at 6 1/2 months.
Poppy is now over halfway to her title winning Best of Breed at the Gun Dog Club of Tasmania show in May 2011.
Poppy wins another Best Of Breed and Junior in Group at Campbell Town Agricultural Show under Gundog Specialist Mrs. A Hearn (Vic)
Pedigree

Parents

GrandParents

GreatGrandParents

SIRE

AUST CH. ACACIAN SPECIAL EVENT

AVONBREEZE MCLEOD

EngCh Paudel easter plantagenet at Kerrien (Imp UK)

Ch. Giltedge Charlotte
BEAUCROFT MADONNA
Ch Longbourne Barclay
Ch Beaucroft by Design

DAM

AUST CH. GOLDLAKE

SUMMER BREEZE

GR CH. TULZEAN AUTUMN TANGO

Eng.Sh Ch Ch Stanroph Shogun (UK)

Strathraer Arctic Skye
CH KAPARLA SUCH IS LIFE
NZ Ch Ch Kaparla Loch Invar (Imp NZ)
Ch Kaparla Just An Illusion